You know things are serious when they hit home! Last month, known affectionately as "Rocktober" is usually my favorite birthstone month. I had a batch of opals and tourmalines ready to play with, create some new baubles and blah blah blah about. But then, SUPPLY CHAIN woes hit and I had to wait (and wait) for my metal order to arrive. Raw materials, like silver and gold, have a waiting list now. 
Welp. Better late than never right? Here's what I was going to post LAST month. Good thing that rocks never lose their freshness!
As far as opals go, the most coveted by far are from the Lightning Ridge region of Australia. Here's a couple hanging out with some rough rutilated quartz in a Miss Matched pair. If you must match, get a couple of charm pendants. Separate or together, they are stunning. 
Speaking of charm pendants, I made a few more for clustering. Of course if you're a minimalist, you can go solo. A few more options:
Last but not least, my absolute favorite new baubles: Indicolite (aka blue tourmaline) crystal slice earrings with polished emerald briolettes. Love. Sigh.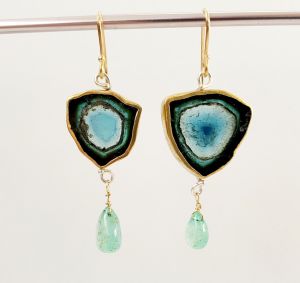 Want more details? Check out: Beautiful Blondes, Otherworldly and Green With Envy sections of the shop for available pieces.