After way too long a hiatus (enforced by circumstances beyond my control) I am happy to say I have resumed making baubles. In case you missed the memo, I have moved back to Canada, and last summer I adopted a rescue doggo from Lebanon. Lexa. 
Lexa has been a handful (understatement) but we are working it out. One of her favorite pastimes is digging up my rose bushes. Apparently they are tastier than bones! I have since put cages over my new rose replacements and have to watch her like a hawk.
Speaking of roses, let's talk rhodochrosite. The name is Greek for "rose colored". In the gem and crystal realm, pink is the color of LOVE. Rhodochrosite is knee deep in the love department! Unconditional love, self love, compassion, deep attachment, and the ability to heal old (of the heart) wounds. My latest batch of baubles focuses on this beautiful rock.
Rhodochrosite Stalactites with Freshwater Pearls Earrings and Pendant
For the matchy matchy types!
Rhodochrosite Stalactites (rare bullseye) & Larimar Earrings
Rhodochrosite Bullseye & Australian Opal Bangle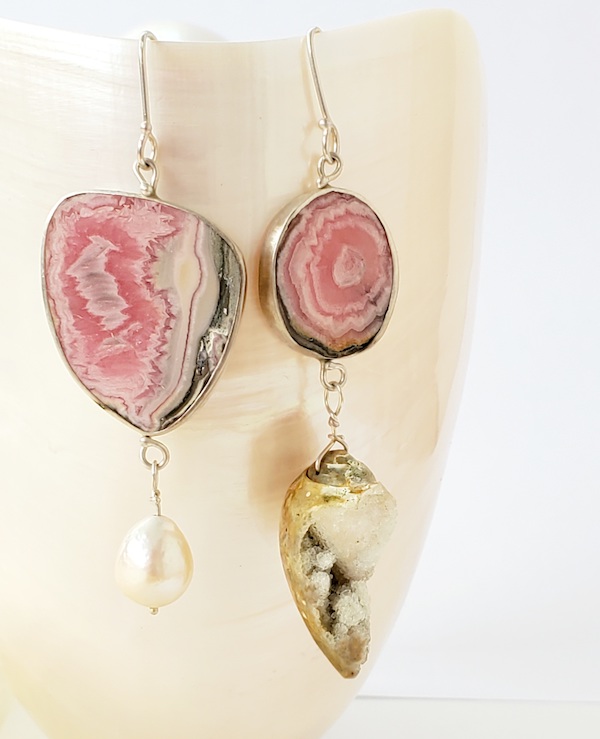 Miss Matched: Rhodochrosite Stalactite Earrings with Freshwater Pearl & Druzy Seashell Fossil
In addition to taking these beautiful slices from my vault, I plucked out some prized "flower quartz"  known by gem nerds as "pyrophillite" in quartz. These are stunning specimens, hard to come upon; it was time for me to let them out into the world. 
You can peruse the pieces that are available in the shop by clicking here for rhodochrosite baubles
And here for the pyrophillite flower quartz babies.
Have a rose (or rhodochrosite) colored day!