Some days stuff just takes longer to happen. I'm hoping that this month's batch of goodies were worth waiting for! It's been so hot here in the Big Easy, I tended to go with blue hues and with dreams of the sea.
It's no secret that I am in love with tourmalines. Indicolite is a blue tourmaline, rarer than most. I was lucky enough to snag a couple of big specimen slices from Madagascar.
One became a necklace (with a hint of the sea).
My love affair with the fossil continues.
And to match?
I had high hopes for a beautifully matched pair of green tourmaline crystal specimens embedded in quartz. My box of broken dreams continues to fill up with stuff like this and several broken shark's teeth.
Plan B
This necklace has three types of green tourmaline: An elongated oval cabochon, a tourmaline crystal in quartz, and a watermelon slice. Kinda boho chic!
And to match?
These pieces were being made during a record breaking heatwave. Just so you know I'm not making it up, here's a typical forecast from August: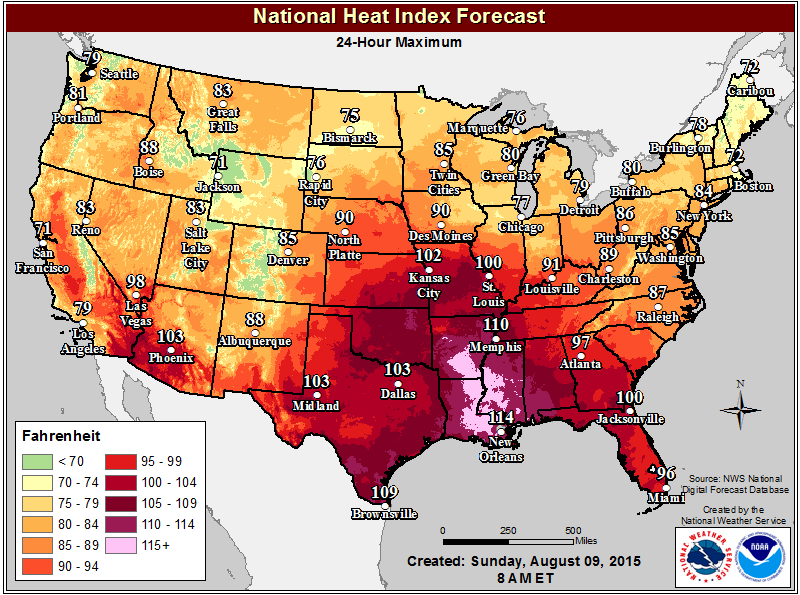 New Orleans is in the pink part. 115+. Just saying.
While I was breaking beloved rocks, I was also wrecking some of the settings (I'm blaming the heat). I had to wait for some silver to arrive to finish the necklaces. In the meantime, I raided the vault, and took out some cool aquamarines and opals. Sometimes you need simple.
And there are those who like to go BIG or go home. Here's the big sister to this one: